Email interaction with Horizon Hobby: (Red HH - Blue MM)

9-18-2018

Hi Mr. Morgan,


My name is Kevin Burner and I work for Horizon Hobby. I havenít been with Horizon very long but I was with Hobbico for a very long time. I am not sure if anyone has ever contacted you about selling your laser cut products through Horizon but I would like to make the request.

1. Is that something that you would consider?

2. If so, what quantities and pricing would you be looking for with these items?

3. Do you typically provide the parts in any retail packaging or just bulk?

4. At this time I am specifically interested in the CarbonZ Cub Battery Cartridge System.

5. After that we might be interested in items that support our products but we could consider others in the future.

I look forward to your reply.

Best regards,

Kevin Burner

Senior Product Developer

Horizon Hobby, Inc.



9-19-2018

Hello Kevin,

I'd be glad to talk with you about options.

Cheers!

Gary Morgan
Morgan Mill & Mfg.
12-9-2018

Hi Mr. Morgan,

I was just going through some old emails and I found 2 voice mail messages from you in my SPAM folder. I am not sure how or why they ended up there and I wasnít even aware that the voice mails go into the email group in the first place. (I am still learning the ropes here) None the less I am very sorry for my none response to your voice mail. I would still like to talk to you about this if you are interested. I should be in the office all of this week so if there is a time that we can talk let me know and we can get together.

Best regards and once again please accept my apology.

Kevin
12-12-2018

Hi Kevin,

I figured you got busy with work. No worries. Yes I'm still interested in talking with you. I'd like to hear what kind of numbers you would be interested in.

Looking forward to talking.

Cheers!

Gary Morgan
650-968-8804
12-17-2018

Hi Kevin,

Just tried to call customer service as a way in to speak with you and they had no way to do that. So emailing to let you know I'm still interested in talking with you about the CZC battery cartridge system.

Cheers and Merry Christmas!

Gary Morgan
Morgan Mill & Mfg.
650-968-8804
4-9-2019

HI Gary,

I am very sorry for the long lapse in my communication with you about the Carbon -Z Cub Tray. Due to a Family emergency I was called away and was out of the office for some time and not working directly on this project. I wanted to let you know that we have proceeded on a new version of the Carbon- Z Cub and it should be released in a few months. We did create a simple tray system for the batteries to make it easier to swap out the batteries. It is not a direct copy of your tray system but because of your system we were made aware of a shortcoming of the original Carbon-Z and wanted to make an improvement to the design.

Once again I am very sorry for the long gap between my last email.

As a token of our appreciation in inspiring us to make this improvement I would like to offer you 2 full kits of the new Carbon-Z Cub when they arrive.

I look forward to your thoughts.

Best regards,

Kevin

4-12-2019

Hello Kevin,

I've been working on my response to you. I can't say I'm not disappointed. I was very much looking forward to supplying Horizon Hobby with my battery cartridge system when you first contacted me back in September of 2018. At that first email I asked what kind of numbers you were interested in me supplying to you. Some months later when you contacted me again expressing this I still thought it was happening. Then another wait and then this.
So yes - I'm disappointed. In addition I'm curious as to how much it resembles my Battery Cartridge System. Or the "Large Wooden Contraption" (LWC) It's nick name.

On a happier note - I'm glad for the RC community. It's always good when a product gets improved and when that product works well. The motto around here is "it just has to flat out work" - No if's, and's or butts. And that is mostly what has contributed to our mutual success with the CZC. As you know - the RC community can be a fickle lot when things don't stand the sniff test.

The greatest gift was from Jim T. Graham and Jason Cole Of RC Groups doing reviews and a build of it when it came out. Followed by many many others in the RC Community including Prof100 (one of the early pilots).

I guess what would be a balm to my wounds would be a mention of Morgan Mill & Mfg. (morganmill.com/RC)'s contribution or inspiration that you got from the original idea in the copy written for the new version of the CZC when it debuts. That way we could build on each others past and future success with the new version and both go forward with a positive start to your new venture. It's free to both of us and a good beginning to future collaboration.

The RC community likes a positive vibe when making purchase decisions - I know I do.

I would be thrilled with the 2 kits you mention - they would be a great addition to the fleet and cool story I can tell at the field.

Sincerely,

Gary Morgan
Morgan Mill & Mfg.
www.morganmill.com/RC
650-968-8804



A division of www.morganmill.com
MORGAN RC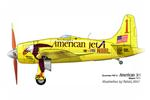 5-20-2019


Hi Gary,

I sincerely apologize for the delay in my reply. I have been in and out of the office a lot lately and I have not kept on my email very well. We are still planning to send you 2 of the Cubís once they arrive. The delivery date is scheduled for late June and we will get you 2 out of this shipment. We did not get MorganRC on the box but what Jason and I talked about was adding it to the webpage. I will talk to him today and see about getting that added.

Do you have a company logo that you would like us to use?

I canít promise that we can use it but that is what I would like to do if possible.

Once again I am sorry about the delay.

Best regards,

Kevin

5-17-2019

Kevin,

I'd like a return email on my last - seems like a pattern you have. Contact and then nothing for months. I'm getting ready to respond to Jason M. on RCGroups about "FWIW we contacted him months ago and already worked something out" I've never spoken to any of you and don't feel like leaving that as the fact.

No mention of my idea or company for the almost direct copy of my battery cartridge system - and no mention of when you might send the 2 aircraft kits promised in your last email. Meanwhile this guy online is claiming it's all good - it's not all good and I suggest you do something about it.

So what's it going to be?