MORGAN RC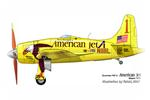 A division of www.morganmill.com
Laser Cutting
Welcome to Morgan RC Laser Cutting & Engraving.

Recently MorganRC added a 24"x36" 80watt Laser to our long list of tools primarily for the production of a growing list of aircraft kits and parts we produce. (See Aircraft Kits)

I have been involved in Computer Aided Design since 1982. During that time I have become familiar with many CAD (Computer Aided Design) and CAM (computer aided machining) programs and have extensive experience dealing with many file formats and design challenges.

If you have no experience with drafting or design you can sit down with me and I can design your part for you.

If you are more experienced and have a design that you would like to produce for a retail kit or a one off custom, I can help you realize your goals.
Some of the things that can be produced with the Laser are:

Entire Balsa and Light Plywood Aircraft Kits
Depron Aircraft Kits
Light Plywood Parts and Accessories
Patterns for Hot Wire Cutters
Patterns for Heat On Covering Materials
Wood Parts
Wing Parts
Fuselage Parts
Replacement Parts
Motor Mounts
Hatches and Access Panels
Engine Nacelles
Aircraft Dash Boards
Acrylic Parts and Patterns
Accessory Packs For Your Kits
ABS Parts
PetG Parts
High Impact Polystyrene Parts
Finish Cutting of Vacuum Formed Parts
Vector Engraving

If you can think of it - I can probably cut it to order!

Please contact me to discuss your needs.
Laser cutting file requirements:

.DXF rev. 12 files are preffered.

Laser cutting envelope is 35.5" x 23.5"

All cut lines are black.

All vector engraving lines are blue.

All border lines and lines not to be cut are red.

All lines on layer 0.

All lines are to be poly-lines (connected as one line).

It is suggested that all sheets and parts be numbered for easier reference.

Every part to be cut must have at lest 2 bridges or tabs to connect it to the main sheet. One bridge for parts smaller than 1" square.

Bridge or tab size is .1" for balsa and .020" for 1/8" (3mm) Baltic Birch Ply.

We use 1/8" (3mm) Baltic Birch plywood we keep in stock. All other ply is purchased on a per job basis. Please keep the number of thicknesses to a minimum if you want your job cut at reasonable cost. Many different thickness dimensions equal many setups and time spent at shop rate for ordering material.

No guarantees of parts fitting when cut ready files are sent by customer.

We centerline cut and our beam is .008" wide giving a loose friction fit for tolerance.

Plan Conversion

Plan conversion is done at an hourly shop rate of $85 per hour. 10 hour minimum for kits.
Generally 40 to 60 hours are required for full set of laser cut parts.

1 hour minimum for smaller projects if no CAD work is involved.

So it's best to have production quantities in mind when kiting a model.