MORGAN RC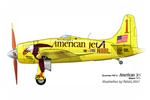 A division of www.morganmill.com
DOMESTIC SHIPPING INFORMATION:
We use USPS First Class Mail for our domestic shipping.
Generally this gets the pacakge to you in 2-5 days for the continental US.
A tracking number will be emailed automatically to you from the USPS when the label is printed.
Please allow 1 to 2 weeks to process your order plus shipping.

We endeavour to ship sooner and may surprise you. But please allow this much time before worrying about your order.
INTERNATIONAL SHIPPING INFORMATION:
I am sorry to announce that we will no longer be shipping internationally due to the high cost of shipping, and the inherent risks beyond my control.

For the future:

There is the alternative of freight forwarding. An example of a company that provides this service is "Shipito" I'm sure there are several hundred others. This alternative provides a US address for me to ship to and conglomerates many orders for reduced shipping charges to your country. Might be an option for you.

The Reason

Just recently I had a situation where I sent the correct parts to a customer in Canada, he insisted that I had sent the wrong ones. I asked for a picture of the incorrect parts to try and work through the problem - this involved several emails and phone calls. He sent no pictures then sent the parts back to me and demanded a full refund stating that the pictures and the construction video were incorrect. He mistook it entirely for another system I sell. The pictures and construction video show one part that has since been improved by reducing the cutting time and decreasing weight without raising the cost to the customer. He had gotten the improved parts. I lost $60 in shipping and handling - he had purchased 3 systems and had asked me to expedite the order.

Come to your own conclusions...

To the international customers that have purchased from me in the past - I thank you sincerely for your business and wish the situation were different.

Cheers!

Gary