NACA DUCTS

Introducing the Naca Duct - a sleek new air intake for general purpose cooling functions and aerodynamics.

In our constant pursuit of aerodynamic efficiency we manufactured the NACA Duct - made from .040 High impact polystyrene or .032 clear PetG plastic - your choice - just write your preference when you purchase on Paypal.

This NACA Duct will arrive rough cut with a suggested cut line. They are slightly covex - to better fit the curvature of the fuselage.

Glue or tape in position. You can also install it with screws for easy removal.


MORGAN RC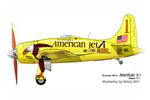 A division of www.morganmill.com
NACA DUCT #1
$2.95
NACA DUCT #1
Made in the USA