SERVO COVER #4

Introducing the SERVO COVER #4 - a sleek new servo cover for general purpose aerodynamics.

In our constant pursuit of aerodynamic efficiency and mechanical protection we designed and manufactured the Servo Cover #4 - made from .040 High impact polystyrene.

The servo covers will arrive rough cut.

Glue or tape in position. You can also install it with screws for easy removal.

This servo cover / fairing can also be used for any situation where a cover is needed.

Let your imagination run wild!

MORGAN RC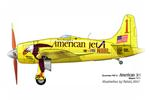 A division of www.morganmill.com
SERVO COVER #4
$6.95/pair
SERVO COVER #4
Made in the USA